JEWEL FRUITS brings out the beauty and flavor of an ordinary fruits into dazzling jewel. JEWEL FRUITS was devised originally by Shizuka Murakami which represents the artistic way of cutting and enjoying fruits.
JEWEL FRUITS was devised originally by Shizuka Murakami which represents the artistic way of cutting and enjoying fruits.

Producing and Advertising fruits related goods
Demonstration of fruits cutting and site decoration
Catering cut fruits at a fruits cafe and events
operating fruits cutting schools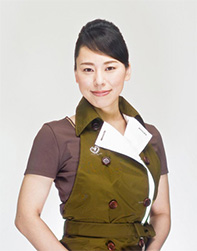 The founder of JEWEL FRUITS, Shizuka Murakami, started working as a licensed cook of Japanese food at a hotel after graduating from a professional culinary school in Tokyo. On this occasion, she mastered the decorative cut of vegetables used in traditional Japanese food. She was impressed by the fact that providing an extra effort to cut vegetables decoratively could enhance the palatability and bring out the better taste for dishes, which inspired her to learn and master various techniques of cutting vegetables and fruits in different countries by self-studying as well as going to schools in those countries.
In the meantime, Murakami started to have a particular interest in fruits cutting, which allows us to eat fruits just by cutting it. She blended the techniques she had learned with her original ideas and then devised her unique method of cutting fruits. From the thought that inspiring people to enjoy not just the taste of fruit but every aspect of it such as its shape, color, and aroma.She has created a decorative fruits- cutting method, where she suggests using even fruits peel and leaves effectively. Murakami's cutting method features that a plate of artistic cut fruits can be made with using just one fruits knife in mere ten minutes.

In 2013, Murakami named her method and works JEWEL FRUITS® and started a fruit cutting school. Currently, she is active in various ways such as writing books, developing fruits-related goods, and fruits-cutting demonstration. She also engages in creating ornamental works using fruits.

I.10 minutes to complete a plate of cut fruits
As a plate of cut fruits is done in a short time of ten minutes, anybody can easily enjoy the fruits cutting, not to mention observing a whole process of creating a plate of cut fruits.
II.Just one fruits knife as a necessary tool
No special tool is necessary. All you need is one ordinary fruits knife you have at home..
III.Enjoy whole fruits
JEWEL FRUITS cutting makes good use of fruits peels and leaves, which are normally discarded, and allows you to enjoy whole fruits: their colors, shapes, and aroma, in addition to their flavor.
IV.Support growers
By applying JEWEL FRUITS cutting to fruits, which producers delicious flavor on their own.We aim to convey the way of enhancing their flavor and the joy of eating them and eventually to increase the amount of fruits consumption.
V.Fruits of any quality is fit for use, from the top-qualities to the irregulars
JEWEL FRUITS upgrades all kinds of fruits by adding value to them with JEWEL FRUITS technique